Community Profile & Relocation Guide
People come to the MADE Chamber office weekly wanting more information on the area, including: a list of local businesses, attractions, lodging and dining options. This is why we created the Community Profile & Relocation Guide with expanded area information, business profiles, and an up-to-date member business directory.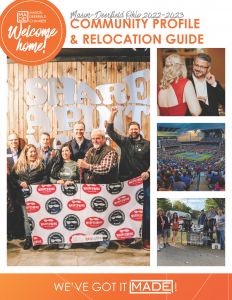 WAYS TO BE INVOLVED IN THE COMMUNITY GUIDE?
Advertise your business to new residents, visitors and community members as the guide is distributed to more than 3,000 people. The guides will be hand-delivered to over 1,000 new residents in the Mason City School District through the chamber's Community Basket program, as well as available at the Mason Deerfield Chamber office, placed in City & Township buildings, hotels, retail stores and offices with waiting areas.
Do you have a story to tell? Write a half or full-page of content in an article to be featured in this year's community guide.
Choose to enhance your directory listing, which will include a link to your website in the guide's digital version.
Don't miss this incredible opportunity to expand your reach and get noticed.